Register for FMS
Mar 3-5, 2017, Dublin, Ireland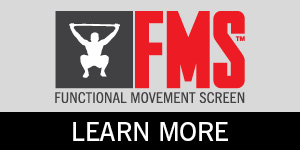 FMS is the screening tool used to identify limitations or asymmetries in seven fundamental movement patterns that are key to functional movement quality in individuals with no current pain complaint or known musculoskeletal injury.
These movement patterns are designed to provide observable performance of basic loco motor, manipulative and stabilizing movements by placing an individual in extreme positions where weaknesses and imbalances become noticeable if appropriate mobility and motor control is not utilized.
Need CEUs? To view a full list of organizations that have approved Functional Movement System courses for continuing education please click here.
Details
Functional Movement Screen Level 1

Functional Movement Screen Level 2
Please Note
Hotel Information
Rooms have been reserved for attendees at the Hilton Dubin Airport at a group rate.
Hotel Reservations:
Please call +335-1-866-1800 and reference Functional Movement Systems.
Hotel Reservation Deadline:
TBD