Description
The SFMA Level 1 Online Course will introduce the professional to the SFMA's background, logic, top tier screens and the breakouts for each pattern.
An understanding of the SFMA logic and breakouts will allow the healthcare professional to provide the proper intervention to the dysfunctional movement. The SFMA Level 1 Online does not include certification, but will familiarize you with the basics of the SFMA.
Course Sample
<== Video for uxm8RFbL ==>
About SFMA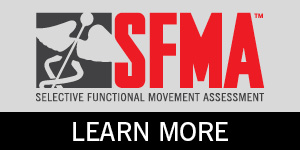 The Selective Functional Movement Assessment (SFMA) is a comprehensive movement based diagnostic system used to classify movement patterns and direct manual therapy and therapeutic exercise interventions. Click Here for more information about SFMA.
SFMA Certification
The SFMA Level 1 Certification track now consists of two components:
Online Course
(You will be expected to review the online materials prior to attending the live course).

Live Course
Completion of the SFMA Level 1 Online Course is the first step in becoming SFMA Certified. Eligible healthcare professionals should the check schedule of events for a live event near you to complete the SFMA Certification process.
As a professional, the choice is yours: if you choose to start with the Online Course, you can register for a live course at a later date. For certification, you may also register for a live course, which will include online course access if you have not already purchased.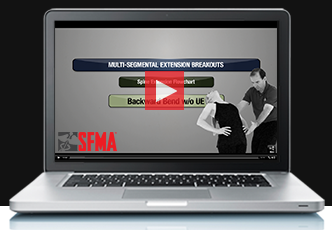 What's Included
One year of access to the SFMA Level 1 Online Course.* This course includes access to over 4 hours of video content. To check your understanding, you will also receive access to the SFMA Level 1 Online exam.
Continuing Education Information
To view a full list of organizations that have approved this course for continuing education please click here.
Who's Eligible
Anyone interested in the Selective Functional Movement Assessment can take the SFMA Level 1 Online Course. The online course is a great opportunity for those not eligible for certification to learn and understand the SFMA, improving their communication with those in their referral network.
*After SFMA certification, professionals who maintain their membership will continue to have access to this course.