Innovation in Manual Therapy
The best way to appreciate innovation in a particular skill set or practice is to have an excellent base in the fundamentals of that practice.
The recent popularity of manual therapy methodology like soft tissue manipulation and dry needling is often controversial and largely misunderstood.
If you have the manual skill-set to practice manipulation of joints and tissues (mobilization and stretching of the same), if you have the ability to tape, scrape, compress or traction tissue and you understand the evaluations that necessitate when one technique is more important than another, then you have appreciated the subtle art of manual therapy: technical manual dexterity and precision combined with a tight and reliable feedback loop that operates more on objectivity than subjectivity.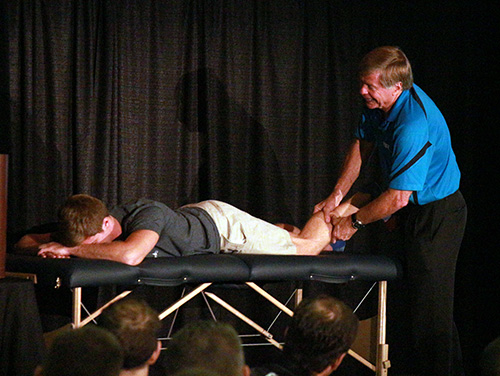 You need to be so good at what you do that someone who's a master would nod at your technique. You need a pretest-retest feedback loop that is largely protected from the subjective information of the patient—while extremely important, it should be considered as a symptom and not a sign.
After every manual therapy intervention, we should be able to put a retest against a baseline of both signs and symptoms but if we're largely practicing off of symptoms without objective signs, then we may not be doing justice to the techniques that we think we know.
Mike Leahy's Active Release Technique (ART) and Edo Zylstra's KinetaCore dry needling workshops are two prime examples of masters at work.
Leahy has embraced the dexterity and healing power in a clinician's hands. His background as a chiropractor exposed him to musculoskeletal medicine and feedback loops but his ART creativity coupled with scientific objectivity helped him refine techniques and actually introduce new ones.
Edo Zylstra is an excellent manual therapist who grew to appreciate the effectiveness of dry needling. He is definitely not the first clinician to pick up a needle and practice the technique, but he's one of the few who makes sure that you follow manual therapy standards before you go and enjoy another technique like dry needling.
ART and KinetaCore have embraced the SFMA model because of its ability to both look at movement patterns and then break them down into impairment measures—collections of signs that can be laid against the patient's pre- and post-treatment symptoms to help create a clearer path.
All I can say, as a professional,is to be weary when the same person who developed a methodology developed the assessment that says whether that methodology is working or not. Both ART and KinetaCore have independently adopted the SFMA as an objective movement standard with which to showcase the effectiveness of their techniques.
That's an unbelievably bold move.However, if you're extremely competent in the techniques that you teach, then you're always in search of tighter and more objective feedback loops to prove the body of work that has largely been born out of your creativity and intuition. Standards also help you understand how to get better.
Through Dr. Greg Rose and Dr. Kyle Kiesel, I have personally witnessed Mike Leahy working through the SFMA model with his ART techniques. Dr. Kyle Kiesel and Edo Zylstra have been using dry needling techniques against the effective breakdown in the SFMA flow charts the very same way.
Kiesel and Zylstra, both SFMA lead instructors, embrace techniques that give them ways to showcase how quickly a baseline can change. Many of the people who compete in the field of manual therapy education do not embrace a consistent baseline but it's impossible to change a baseline if you never set it in the beginning. Many invent their own and their models always look successful.
This is a forgivable freshman mistake. We've all been there trying to referee our own game. Remember, the most objective person in the room is the one that knows they're not objective and creates systems and methods to protect themselves from their ownbias.
This is largely our intent with the SFMA—to take many eclectic clinical methodologies and bring them together so that the best technique for the best person at the best time in their healing journey will be focused and directed with a test-retest platform that allows us an equal appraisal of both signs and symptoms.
If we're guilty of anything in physical therapy, it's an intensive focus on a patient's symptoms without relating them to the musculoskeletal signs that could be driving those symptoms in the first place. Many times when a patient is getting better, they have a bad day and they could potentially be getting worse on a day when they actually don't feel that they are.
We must be clinicians who embrace the subjective feedback while laying it against an equal parallel given to us by musculoskeletal movement pattern signs and impairment measures. Both are part of the decision tree off of the most fundamentally affected movement pattern involved in both provocation of symptoms and identificationof significant movement dysfunction.
I would say that the best way to approach dry needling and the best way to approach soft tissue manipulation is to have an excellent manual therapy background and to have already had other manual therapy classes. If you're a new graduate and have not done any continuing education focused at manual therapy, I could not recommend more highly Mike Leahy's ART or Edo Zylstra's KinetaCore.
Why? Because they both value the feedback loop so much that they embrace an independent model that they did not invent, and they hold their work up against an objective measuring stick demonstrating its effectiveness. They could have easily approached their skill set with a bias but each took the road less traveled. They leaned in. They looked deeply at the SFMA. They contacted one of our lead instructors and said, "Show me more. I like your baseline and I am confident that I can change it."
Our baseline not only helps you see when you're making an effective difference. It also alerts you to side effects or other movement patterns that should be baselined so that we can watch them in parallel. We do not want to create movement in one direction while robbing from another direction. Therefore, an inclusive movement approach—a movement pattern-based approach—is the starting point.
If you're approaching dry needling or soft tissue manipulation and you're looking for innovation, then you will see old-school manual therapy objectivity held up against modern science and innovation with two excellent techniques that complement each other and can stand alone easily but not above the assessment. They are in cohort with the assessment.
Please login to leave a comment
3 Comments
I took SFMA in 2011 and TPI in 2012, and saw the immediate correlation between ART, TPI and SFMA. I've been an ART provider since 2004 and I'm happy to see ART work with the FMS system along with TPI. Anyone have good feedback concerning the dry needling?

I have taken SFMA in 2014 and Kinetacore's level 1 course in 2015 and both have been instrumental in changing the way I practice as a physical therapist and a trainer. I intend to complete more of the courses with both companies to advance my knowledge and create better outcomes for my clients.




Derek,

Kinetacore is a great educational company with educated instructors and does an excellent job of incorporating the SFMA into the use of dry needling. I would highly recommend it for any practitioner where needling is allowed and will work hand in hand with ART and TPI, which are both on my list of educational seminars to attend.

Josh Gray

9/2/2015 5:54:50 PM

Skilled manual therapy can take a patient with a DP pattern within the SFMA and quickly restore that particular pattern to FN. I believe that feedback loop of initially being in pan with limited mobility and within a short time be pain free with full mobility is truly powerful to that patient.