Fundamental Capacity Screen: Measuring Elemental Energy Expression
Fundamental Capacity Screen: Measuring Elemental Energy Expression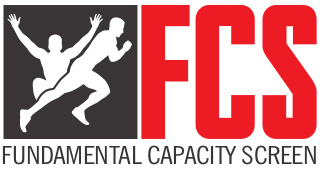 What is the FCS?
Performance and fitness are often considered the results of training or practice. But, in our continuing study of movement, it has become evident that there is an elemental expression of our energies.
Long before learning and acquisition of sport-specific skill are present, we express energy in fundamental ways as part of a biological need to move and explore our environment.
That energy should be measured—and we have developed the Fundamental Capacity Screen (FCS) to do just that. Using the FCS, we can screen the capacities to:
Control motion (crawl and climb), Maintain posture (carry), Explode against gravity (jump) and Utilize stored energy when necessary (run).The FCS forms the transition between movement competency (FMS) and specific skill development (specialized training), allowing you to identify pattern problems, capacity problems and skill-based problems and address them individually through targeted programming decisions.
Want more information on the FCS? Check out the course description and schedule below.
FCS Course Description FCS Course ScheduleUpcoming Live Events: September 30 - October 1 Los Angeles, CA Los Angeles Convention Center November 4-5 Chicago, IL Glenview Park District December 9-10 Providence, RI Perform Better - West Warwick, RI
FAQ:
Are there any prerequisites for this course?
Yes. FMS Level 1 is requried before attending a FCS. (An online course discount is available at the FCS registration page.)
Will all participants be screened using the FCS?
All course attendees will be Functional Movement Screened and will participate in the procedures of Fundamental Capacity Screening. Full screening data for each participant may not be collected during the course.Do I need to have a Functional Movement Screen before arriving at the FCS Course?At the beginning of Day 1 of the FCS course, all attendees will be movement screened. If you are able to come with a scoresheet from a recent screen, that will help with course logistics and allow you to assist by screening others.What are the physical requirements of the FCS Course?The four tests of the Fundamental Capacity Screen are slightly more rigorous than the patterns used in movement screening. You may be asked to participate in balancing, jumping (broad jump), and carrying activities. If at any time you are not comfortable or in pain, do not continue.Will I earn an FCS certification by taking this course? Is there an exam at the end?Yes, you will be notified of exam availability following course completion. You will receive the FCS certification upon passing the exam. FCS certification is contingent on prior FMS L1 certification.What course materials will I receive?You will receive a printed manual upon check in on Day 1 of the FCS Course.
Please login to leave a comment