Featured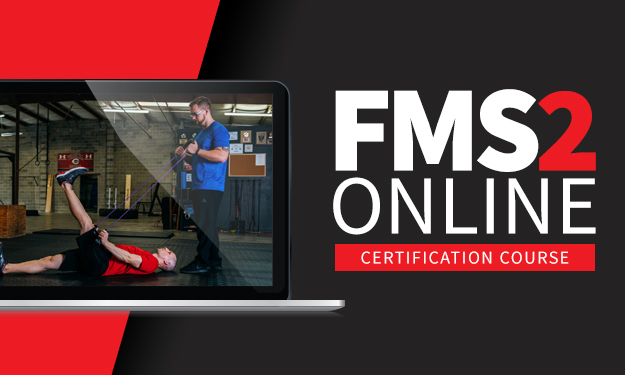 Description
The Functional Movement Screen Level 2 Online Course is a self-paced course. The course can be completed from the comfort of your own space, allowing you access as your schedule allows.
The Functional Movement Screen (FMS) Level 2 Online Course dives into vital concepts of movement competency and exercise programming. You will learn how to select the best exercises for your clients based on their Functional Movement Screen results and get them on a customized path for lifelong movement health.
Key Course Take-aways
Become proficient in the FMS corrective philosophy to improve your coaching efficacy.
Reinforce the interpretation of FMS results to streamline your decision-making process to determine training priorities for your clients.
Learn our favorite corrective strategy options for each movement pattern of the FMS - including breathing, mobility, and motor control.
Build your confidence of using the FMS in your business by learning from our case examples.
Best way to learn the correctives - give them a try yourself! Explore the pattern correctives as you watch our instructors lead the demonstrations.
See what other Professionals are saying about the FMS Level 2 online course!
Being able to go at my own pace. Lots of ways to learn - program set up with demo, manual, explanations.

- M. Christensen, US on 8/10/2023
FMS allows me to remove all the guesswork out of my exercise programming.
- I. Matchett, Canada on 7/14/2023
The most valuable part of this course was being able to put theory into practice in a simple way.
- A.

Gasparini

, Mexico on 5/15/2023
Movement principles were presented in simple and logical way that can be applied to create positive results.
- P.

Robaczynski

, Norway on 1/27/2023
What's Included
Once your purchase is complete, you will have one year of access to the FMS Level 2 Online course. You will receive email confirmation of purchase with directions on how to access this online course.
This course includes access to almost 8 hours of video content and a downloadable manual. The chapters included in this course are as follows:
Chapter 1: Introduction to the FMS Level 2 Online Course
Chapter 2: FMS Level 2 Virtual Course (pre-recorded)
Appendix #1: Review of Key Concepts
Appendix #2: Additional Case Studies
Additional Information