Reactive Neuromuscular Training for the Anterior Cruciate Ligament-Deficient Knee: Case Report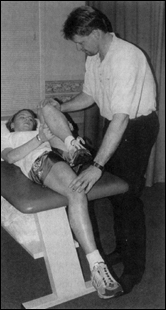 This case study outlines how reactive neuromuscular training was implemented into an injured ACL's protocol training program.
Please login to leave a comment
1 Comments
Dave

8/28/2012 7:13:03 AM

I had 15-25% of my lateral meniscus on my right knee removed about 15 months ago (partial lateral menisectomy). I have been unable to make it to 100% in terms of recovery because of some strength imbalances that probably caused the injury in the first place, most notably: my right quad/hamstring, specifically my VMO/semimembranosus/semitendinosus are weak, and my left glutes are weak. So on any bilateral or even unilateral movement, my right glute/VL/biceps femurus and my left quad/hamstring/adductors take over. Whenever I'm walking around, it feels as though my right leg is in a state of abduction, and my left leg is adducted and internally rotated. What should I do?