My Role at the NFL Combine
This last weekend over 300 of the most promising football prospects in the world were invited to NFL Combine in Indianapolis to be evaluated by potential employers. They were tested in nearly every way imaginable. Running, jumping (for some, almost flying), lifting, cutting, reading, analyzing, and, of course, moving.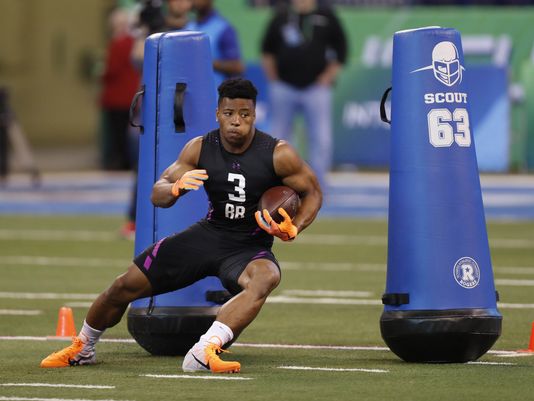 (Photo: Brian Spurlock, USA TODAY Sports)
Functional Movement Systems has had a presence at the Combine for almost a decade. For the 4th consecutive year, I had the opportunity to be in Indy assisting the NFL in performing 330 Functional Movement Screens. Jon Torine, former strength and conditioning coach for the Colts and current FMS Instructor, is no stranger to this sport and joined me for the testing.
Strength Coaches and Athletic Trainers from the Falcons, Dolphins, Jaguars, Seahawks, Panthers and several others helped with the screening. AJ Neibel, Head Strength Coach for the Atlanta Falcons, did an outstanding job of taking care of the logistics and administrative processes, which is key when screening this many athletes.
It's a great opportunity for our company, but also a great opportunity for the NFL. The Combine brings together some of the finest athletic specimens in the world, but as anyone in the business of movement knows, athleticism doesn't necessarily represent movement quality.
The Combine is a sports scientist's dream, really. The breadth of information is both stimulating and staggering. Recently, USA TODAY spoke with me and a few others about the information boom at the Combine. As with anything, it's one thing to have the information, it's another to know how to use it. In addition to helping teams gather data, we're trying to help them decipher what it all means – at least in the case of the movement screen.
One of the biggest misconceptions of the FMS is that there is a linear relationship between screen score and performance. While some studies have found a relationship, the primary purpose of the screen is to identify dysfunction. Assuming all individual scores are a 2 or better, there wouldn't necessarily be a difference in performance between an athlete who scored a 16 and the same athlete who scored an 18.
Like the 40 yard dash and vertical jump, the FMS provides data points for teams. However, unlike the 40 and vertical, the FMS is NOT a performance test. It's a movement test.
The goal of the FMS is to help distinguish whether an athlete has a performance issue or whether their performance may be limited by a movement issue. We are trying to quantify a standard that forecasts durability. Are they physically prepared to condition and compete?
The FMS helps the professionals implement a better workout program. If it can help your coach improve your workout, then hopefully, you can practice better. If you can practice better, you can improve your skill. If you improve you skill, you can improve your performance. Performance, after all, is what we're after. 2014 Functional Movement Summit Keynote Speaker (Video), Brandon Marcello, put it well on Twitter recently:
Be careful not to confuse performance w/skill. It doesn't matter how powerful/mobile/stable/etc you are, if you're not good at your sport!

— Brandon Marcello (@bmarcello13) February 24, 2015
We also advise teams to compare individual scores within peer or position groups rather than total scores across an organization (or league). An offensive lineman shouldn't be expected to score as well on some tests as a defensive back, so looking at their results side-by-side is unproductive. However, comparing an offensive lineman's score against his position group will be instructive. Dysfunction is somewhat relative.
Each team has a different tolerance for dysfunction in screens. Gray Cook shared his thoughts in this podcast, but here's a nice excerpt: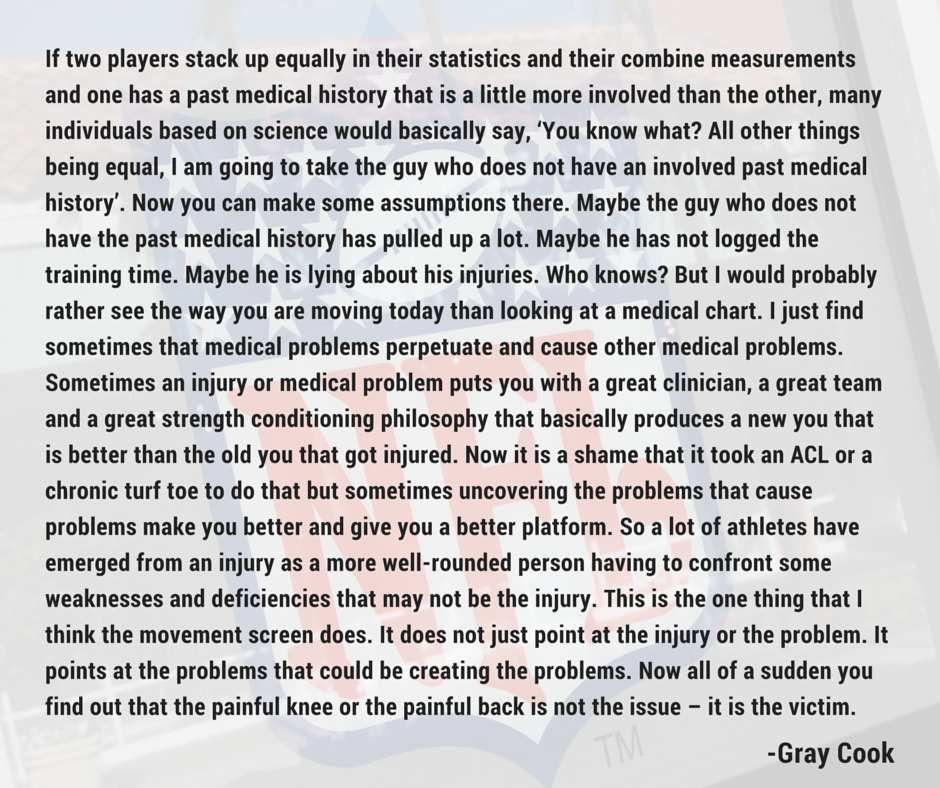 It is our job to do what we can to sustain quality movement in our athletes. We believe that by focusing on the dysfunction, we can lay a better foundation for long-term sustainability. We need to remember to look long-term in professional sports and every day life.
As Brandon Marcello shared in his Keynote address at our 2014 Movement Summit (Video), there's a difference between knowing and understanding. There's no shortage of individuals who know about the movement screen, or who know how to go through the movement screen. I'm extremely grateful for the opportunity to work with the NFL as they continue to use the FMS in their pre-draft protocol, and seek to better understand where it fits in their assessment of future players and conditioning strategies.
Looking to get FMS certified? We deliver FMS 1 in live and online formats. There's no better time to join the move well. move often tribe.
Please login to leave a comment
3 Comments
I wish I could get High School Coaches to use the FMS--I am a private Strength & Conditioning Coach and found the FMS to be easy, quick and revealing in assessing Middle School and High School athletes (and yes my Personal Training clients as well) but what I do not understand is the concept that Coaches on these level have that they do not have the time. It's the horse before the cart situation---if you don't have time to do a FMS on your athletes --how can you afford the time to lose athletes during the season. Frustrating!

Dr. Lee Burton,




It was a pleasure meeting you at NFL Combine. I (ethos360.net), Mike

Miller was with my good friend Joe, along with the Tennessee Titans.

Joe did the majority of the talking while misspelling your email address

and we were at the TRX booth with Chris Frankel. I would love to

more involved with FMS !!!

Dan Leary

4/28/2015 2:34:26 PM

Great stuff-we FMS all our athletes at Seaside High School. Its a roadmap to success!