The Application of the FMS in Track and Field
One of the biggest misconceptions about the FMS is that it's a performance test. It's not. We'd never suggest that a quarterback who has all 3's on his screen would outperform one who has all 2's.
In some cases, a lower score (with no ones or zeroes) might be more favorable than a perfect score of 21, as Dr. Greg Rose explains in the video below. Especially among striking or throwing sports, there is some acceptable asymmetry that may develop from intense training.
<== Video for z9SQPzTS ==>
That said, there are sports in which a relationship between athletes' FMS score and performance has been identified, including track and field.
One of the people who has studied the application of the FMS within track and field is Todd Arnold of St. Vincent Sports Performance. Todd Arnold is a a board certified sports medicine physician and a sports performance scientist for USA Track and Field who works extensively with the best track and field athletes in the country, including many athletes who are representing their countries at the Olympics this month.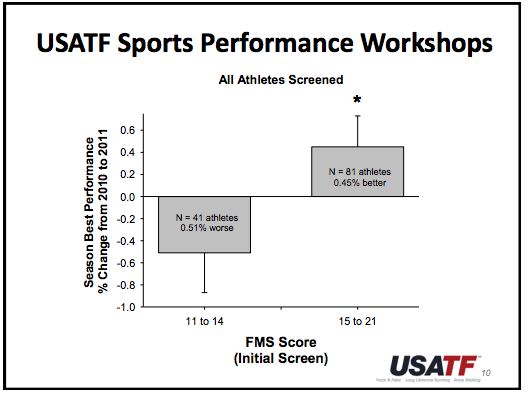 Along with other researchers at University of Indiana in Indianapolis, Arnold led a two year study that investigated the relationship between FMS score and performance in track. They found that elite track athletes who scored above a 14 on the FMS had significantly greater performance improvement the following year, while those who scored below a 14 saw their performances decline on average.
"Athletes who move better have the potential to improve over athletes that have a movement screen that is poor or shows significant asymmetries," Arnold told LER Magazine.
"However," Arnold added, "moving well and having no asymmetries may simply allow the athlete to gain more from each training session."
Since five of the seven FMS tests are done bilaterally (hurdle step, in-line lunge, shoulder mobility, active straight leg raise, and rotational stability), Arnold and his colleagues wanted to investigate if there was a closer relationship between bilateral FMS tests and performance. The data suggests that athletes who had no bilateral assymetries improved on their performance, while those who had at least one bilateral assymety saw their performance decline.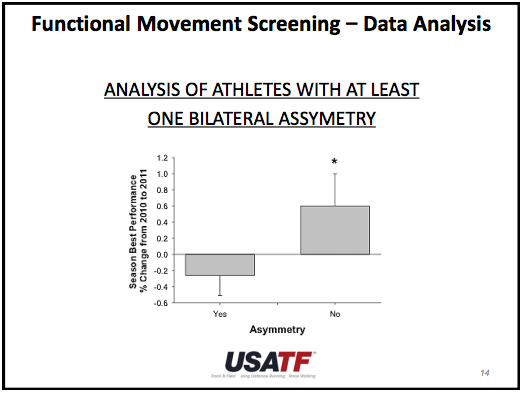 In many ways, this is intuitive. There are few sports which require more repetitive movements than distance running. Elite distance runners average 180 - 200 strides per minute. An 80 mile training week - modest for many top-flight distance runners - would amass 80,000 to 100,000 strides. That presents a tremendous opportunity for overuse injury and even greater opportunity to improve performance. Athletes who clear a baseline have the opportunity to perform better since they possess the movement skills to adapt to their environment.
On Monday, Emma Coburn earned the first medal for the United States in the steeplechase since 1984, setting a new American record in the process. In April, she was crushing the FMS under the supervision of Todd Arnold and his colleagues, scoring a 20 out of 21.
"That's just all-around movement and all-around strength and flexibility," said Coburn told ESPN in reference to her FMS score.
"I think a lot of long distance runners look lean and they look fragile, but I think a lot of runners are much stronger than people give them credit for -- and are much better athletes than they are given credit for," Coburn continued. "I think physically having a diverse athletic background has helped me become a stronger runner, in terms of muscular development and coordination."
Growing up, Coburn played basketball, volleyball and hockey, in addition to running track and cross country. Running didn't become her primary sport until her junior year of high school.
For most performance coaches, the benefits of a multi-sport background for long-term athletic development is not a new concept. Whether it be track, golf or football, early sampling gives athletes a higher ceiling for success.
In fact, it's a trend seen across most Olympic sports (with the notable exception of early specialization sports like gymnastics). In 2014, the USOC completed a comprehensive survey of their Olympians and found that, on average, Olympians played three sports per year from 10 - 14 and over two sports per year from 15 - 18.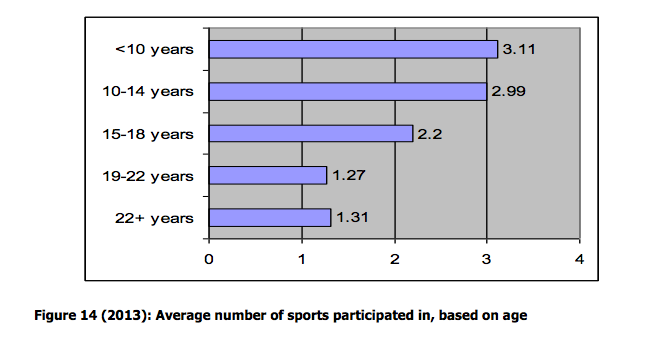 Movement skills are one the foundational building blocks of athletic performance and the FMS is how many athletes and coaches measure them.
While improved performance can be a welcome byproduct of the FMS the primary proposition is setting a baseline for movement and durability.
Since becoming the second fastest man in history in 2012, Jamaican superstar sprinter Yohan Blake has been beset by hamstring injuries. In 2013 and 2014, Blake's injury prevented him from competing regularly. After another injury-riddled season in 2015, Blake and his trainer turned to the FMS to identify the potential root cause of his issues.
Blake and his trainer used the FMS to assess his movement and identify limitations that may be making him more vulnerable to injury. They looked at the mobility of the hip and general weakness in the hamstring.
While Blake's 2016 didn't end with an individual Olympic medal, he was reasonably healthy, finishing 4th in the 100m and advancing to the semifinal of the 200m. On Friday night Blake will run on Jamaica's 4 x 100m team, a heavy favorite to win their third consectuive gold medal.
The FMS isn't a magic pill. It won't guarantee good health or a podium finish. What it can measure, however, is that a runner can make the most of their next 100,000 strides, both in terms of performance and durability.
__________________________________________________________________
Top Trainers Have a Secret Weapon
The FMS
Please login to leave a comment