Taking the Functional Movement Screen to Your Community
We recently had the opportunity to screen approximately 80 high school football players from two different local school districts. These events were only made possible by years of building on our tradition of providing excellent fitness services as well as nurturing relationships with other health care providers. In this case, a chiropractor approached us about partnering up with his two associates to create an FMS event. He already started the conversation with one of the area's head football coaches and his associate had a connection with the athletic director at another local school.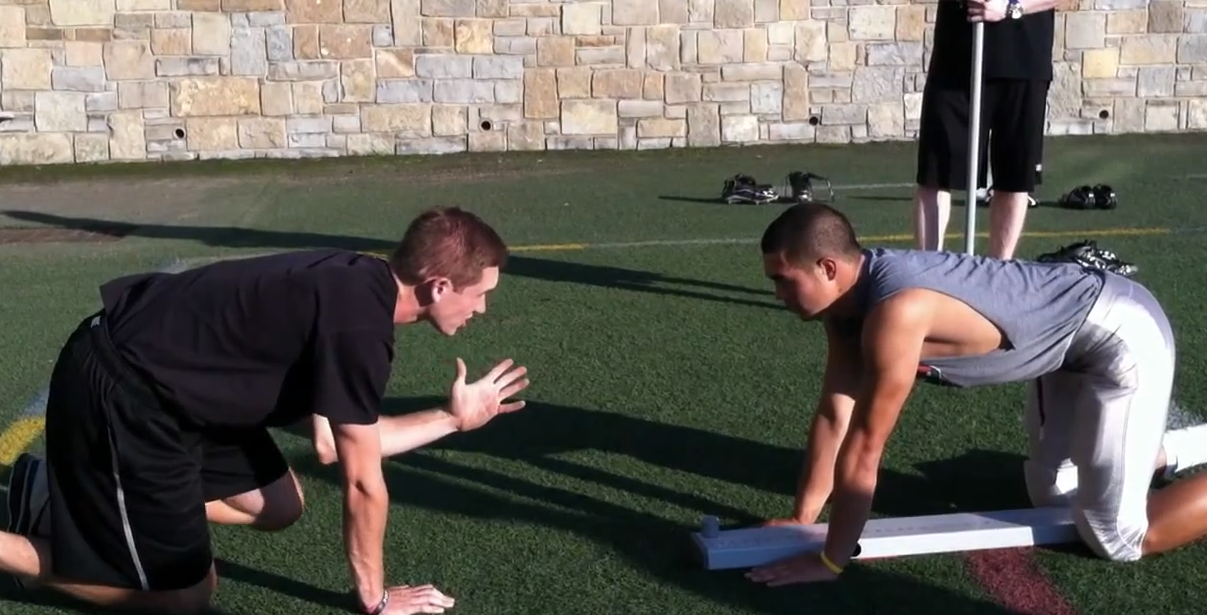 Both teams had approximately 40 to 45 athletes. We were given one hour at the end of practice to conduct the screen. We determined we would need nine skilled professionals (seven screeners, one registrar, one event director) to administer the screen and one other (in this case, the doctor) to answer questions to those standing on the sidelines (coaches, athletic training staff, parents/guardians). We broke the athletes up into two groups, giving us about 20 to 24 athletes to screen at once.

Below are the steps we took to orchestrate the event:

Create and Distribute Informed Consent and Photo/Video Release
We created and emailed a one-page PDF to the head athletic trainer and head coach. The AT distributed the forms to the athletes with specific instructions to have them signed and returned prior to the event.

Create the FMS Score Sheet
Using the template provided by FMS, we added our company's contact information and logos. We had them printed on four-sheet carbon (participant's copy, athletic trainer's copy, One on One's copy, Nittany Valley Chiropractic's copy). In addition to demographics, we also collected participant's contact information to add to our marketing database.

Create FMS Information Sheet
We created a double-sided document explaining the history of the FMS, an explanation of the individual screens and how to interpret your score. A hard copy was distributed to the participants at the completion of their screen with instructions to share their score sheet as well as the information sheet with their parents/guardians.

Administering the Screen
Participants started at the registration table where a staff member (the registrar) was responsible for distributing the score sheets and instructing participants to fill in the demographic/contact information. Once completed, participants reported to the second staff member (the event director) responsible for directing the athletes to specific screening stations. Seven staff members (screeners) were each assigned a station arranged in a "U." Athletes were instructed to begin at the assigned station and move clockwise through each station until they completed all seven screens and had their final score tallied. The event director then provided a brief explanation of their results and distributed the information sheet.
With regards to program design, the FMS is an indispensable tool for all fitness professionals. The FMS is also a tremendous marketing tool. Although we don't believe in giving away professional service, the public currently has no perceived value of the FMS. Accordingly, we chose to provide the event at no charge, viewing it as a marketing expense. In the future, we will provide events like this as part of our "Give Back" initiative in which the proceeds will go to two of our chosen charities.
For more information on how you can promote and provide an FMS event in the State College area, please contact Kym Burke at kym@oneononefit.com.
Kym Burke is co-owner of One on One (State College, PA). Since 1986, One on One has provided cutting-edge personal training in a professional, non-intimidating atmosphere. Find out more at www.oneononefit.com.
Please login to leave a comment