Texting vs. Correctives
Recently we discussed the link between corrective exercise and the lifestyles of our clients and patients. Now let's take that one step further and ask about something that is often overlooked. What about smartphones? Their risk extends beyond a driving distraction as they are a massive contributor to poor posture. Seem like a small thing? It's not.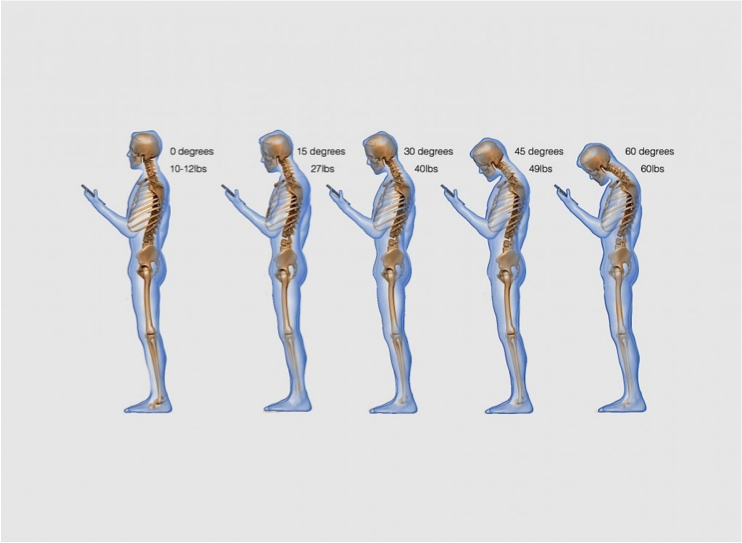 *Dr. Ken Jansraj, M.D. via The Washington Post
A recent study published by the National Library of Medicine found that smartphone users spend as much as two to four hours per day hunched over their phones reading texts and emails. That's 700 - 1,400 hours per year that we are adding dangerous pressure and stress on our spines.
Physical therapist and Mobility WOD founder Kelly Starrett actually posted an entire video on proper texting form.
It's not only a really popular post, but an important post. What's the point of asking an athlete to commit an hour a day to more efficient movement if you're not going to address the four hours per day they are reinforcing an unhealthy movement?
Kelly's wife, Juliet, is committed to improving ergonomics and posture too. She is spearheading an effort called Kids Stand Up which aspires to "get every child at a standing desk to combat the epidemic of sedentary lifestyles and to better reflect the goals of the 21st century classroom."
This article isn't meant to be anti-technology. As coaches and medical professionals we have to realize that lifestyles and environments are made up of the little things that add up over time, including how and how often we use our phones. When considering how to change the environment to help a client reach their goals - don't forget the smartphone.
Please login to leave a comment