Rams Medical Staff Leads the Way
In the increasingly lucrative and hyper-competitive world of professional sports, prevention and treatment of injuries has become the next frontier in performance. Having a star athlete on your team means nothing if that star athlete can't get back on the field due to a nagging injury. It can cost a term dearly, both in terms of performance and finances. A recent estimate in Fast Company suggested that the "Big 4 Leagues" (NFL, NBA, MLB, NHL) paid more than $1.5 billion in salary to injured players in 2013.
When a fractional improvement in injury rate can have significant impact on a balance sheet and box score, professional sports organizations have started to place greater emphasis on providing exceptional care for their athletes.
Recent pieces by USA Today and KSDK-TV in St. Louis highlighted how the medical teams of the St. Louis Rams and St. Louis Blues are employing progressive tactics and a team approach to the treatment of their athletes.
Led by team physician Dr. Matthew Matava, the Rams have one of the largest medical staffs in football. On a given Sunday, the Rams and the visiting team will have as many as 31 professionals on the sidelines. That's a significant increase from the 5 - 6 staff members that might have been there 10 years ago, according to Dr Matava.
"I consider our medical staff one big toolbox and we want to add as many tools as we can," said Dr. Matava told KSDK, "We like to think of it as a well-oiled machine. There are certainly a lot of moving parts."
Some of the tools utilized by both the Rams and the Blues are the Functional Movement Screen and Selective Functional Movement Assessment. The Rams athletic training and medical staff features 3 FMS-certified professionals: chiropractor Dr. Michael Murphy, Head Athletic Trainer Reggie Scott and Assistant Athletic Trainer Tyler Williams.
The Rams administer the FMS to the entire team and then follow up with players on a case-by-case basis. In addition to establishing a consistent language and criteria for success within the medical group, using FMS / SFMA has allowed them to tackle problems as a team.
[RELATED: Seattle Seahawks start their season with FMS]
Dr. Murphy focuses on helping athletes regain mobility while Reggie and his team concentrate on stability. By sharing the responsibilities as they relate to individual expertise, the staff is able to maximize their results
"We work as one entity. The athletic trainers know exactly what I am trying to do and I know what they are trying to do. It's a team effort," said Dr. Murphy.
Dr. Murphy says that athletes are very receptive to their style. Ultimately, athletes are looking for results and, through FMS, results they've found.
"As athletes start to improve from a functional movement standpoint, they see performance gains."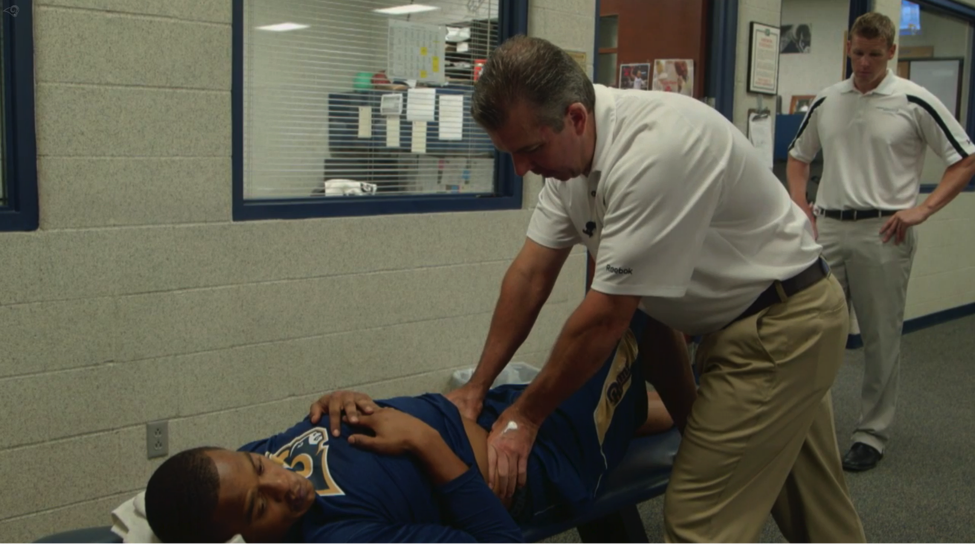 Dr. Murphy's work has been so popular with the players that Dr. Matava contends that the chiropractor is "probably the busiest member of the medical team before the game."
"FMS hasn't been a tough sell at all. What I like about the Functional Movement System is that it's a very logical progression. If this, then that. If we can make logical steps, we'll end pain, and fix the cycle," says Dr. Murphy.
"It's pretty cool to be able to take someone from their weakest moment when they get hurt and then help them get back on the field," says Scott
Please login to leave a comment