FMS and the NBA
The video embedded above is a highlight from the Nike Basketball Pro Training Camp in 2012. The four day training camp, hosted at Nike's World HQ in Oregon, brought together some NBA's best athletes (including LeBron James, Chris Bosh, Chris Paul, Dwyane Wade, Carmelo Anthony, among others) and some of Nike's most-trusted performance advisors including Keith D'Amelio, Paul Winsper, Charlie Weingroff and our own Lee Burton. The goal of the program was to explore opportunities to improve athletic performance of some of the most accomplished basketball players in the world.
D'Amelio has worked with Nike as a Performance Specialist since 2011 after spending a decade in basketball with the Raptors, Celtics and Stanford University. Paul Winsper, formerly an Advisory Board member for Nike's SPARQ is now the VP of Athletic Performance at Under Armour. Weingroff, a PT and Performance Director based in New York, joined Nike's Executive Performance Council after . Additionally, Weingroff currently serves as the head Strength and Conditioning coach for the Canadian Men's Basketball team.
The Training Camp was an intensive experience, combining physical training, skill development, sensory drills, and recovery techniques. But it all started with a physical assessment that centered around the FMS.
"The first thing we did before we even thought about when we're doing from a training perspective was our assessments. That allowed us to take each individual athlete and treat them as an individual athlete." - Keith D'Amelio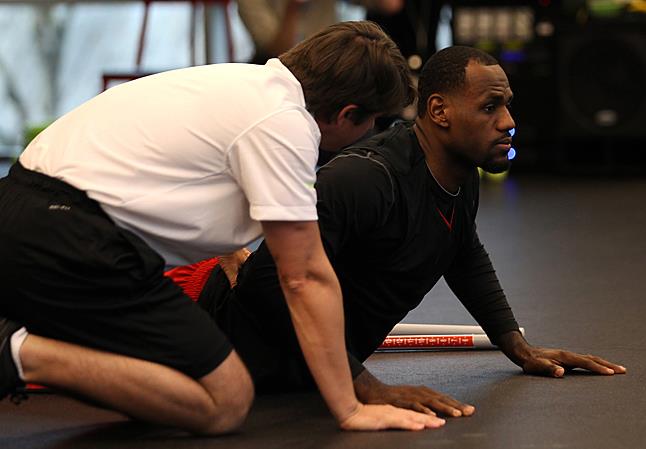 "When we look at defining athleticism, we strip it back to the basics and say: in a fundamental state, what does an athlete need to do to consistently perform at the highest level again, again and again?" - Paul Winsper
The FMS has been utilized in the NBA and elite collegiate and high school basketball programs for years. Some top college programs, such as the University of Kentucky, actually release their results from the FMS at their annual pro day.
A talent evaluator wouldn't question LeBron James' basketball ability if he failed a test, but it should inform a S&C professional how to program his workouts off the court.
"The FMS serves as a guide for building programs. I'm trying to identify potential issues in training." - @CWagon75 pic.twitter.com/7786rqGr3u

— FMS (@FunctionalMvmt) June 14, 2016
SFMA Certified PT Mike Roncarati, director of player rehab for the Atlanta Hawks, incorporates concepts such as the 4x4 Matrix (which we introduce in SFMA Level 1 and and explore further in Level 2) in his work with athletes.
"I really believe in putting athletes in developmental positions for fitness. They need to own stability and express strength before they are progressed," Roncarati told FMS.
"Because of how long their torsos are, most basketball players have stiff backs, hips and ankles," Roncarati told Sports Illustrated in December, "We do a lot of exercises kneeling and on hands and knees, and we try to teach [players] how to properly drop and absorb force when landing from a jump, to prevent ankle injuries."
Roncarati came to the Hawks after serving as the Strength and Conditioning coach for the NBA champion Golden State Warriors last season where he was a part of the team which rehabbed Steph Curry's much-maligned ankles (their work was the subject of a terrific feature by ESPN in February).
An NBA season is a grind. Irregular schedules, constant travel and relentless pounding day in and day out make it difficult to predict their readiness for in-season training.
FMS Certified strength coach Shawn Windle of the Indiana Pacers said on a podcast that in the middle of the season he feels more like a "recovery specialist than an S&C coach" (for more on how Shawn uses the team approach to treat and train athletes, go to the 16 min mark in that podcast).
The FMS isn't a predictor of basketball ability or athleticism, but it can offer an opportunity to identify limitations before they become significant problems.
Please login to leave a comment