Welcome to the FMS Pro App!
The All-In-One FMS Pro App is
Available and Ready for Download!
FMS Pros and Clients: Great news! You can now connect on one platform and access all your movement data and workouts within the FMS Pro app.
Clients
Simply download the FMS Pro app to get started. You will no longer be required to log in to the FMS website to access your reports and workouts. Workouts will still be delivered to your inbox, but they will also be easily accessible anytime from the app. No more email searches when you're ready to jump into your workout!
Pros
You already had the ability to collect, store and manage your client and patients' movement data in one place. Now you can connect with your clients and build and assign their workouts all from the FMS Pro app. Plus, the FMS exercise library is fully integrated into the app now too.
Beginning Dec. 31, 2019 The web-based version of PRO 360 will no longer be available.

From this point forward, access to PRO 360 on the web is available as a read-only resource. Please create all new clients and workouts within the new FMS Pro App.

Additional details:
All of your client data, FMS screens, YBT screens, and FMS auto-generated workout programs have been transferred to the FMS Pro App.
Assigned custom workouts that were created with the basic builder and template functionality (that included non-FMS related exercises) may not have transferred.
Improved Navigation and Redesign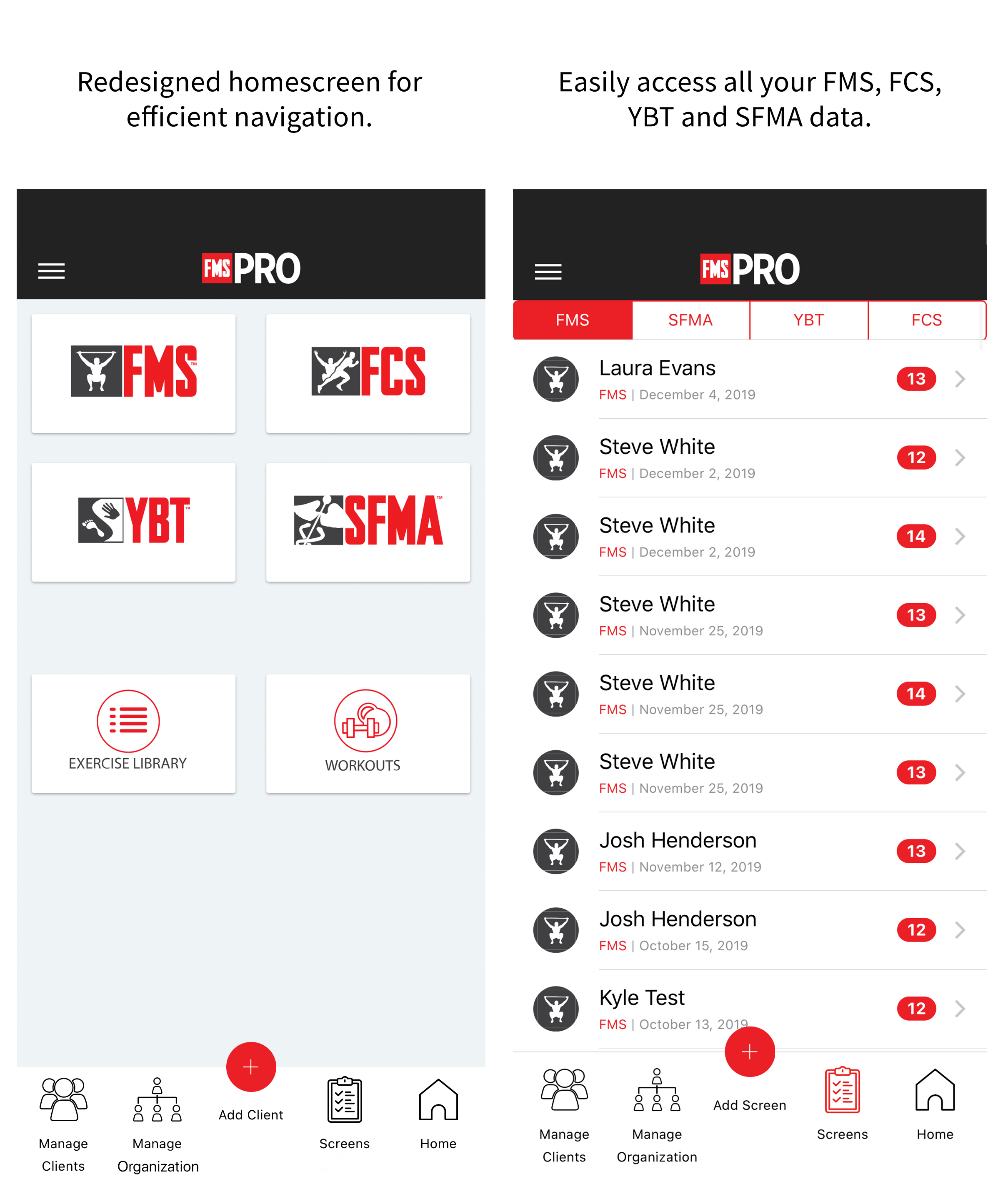 Correctives and Workout Builder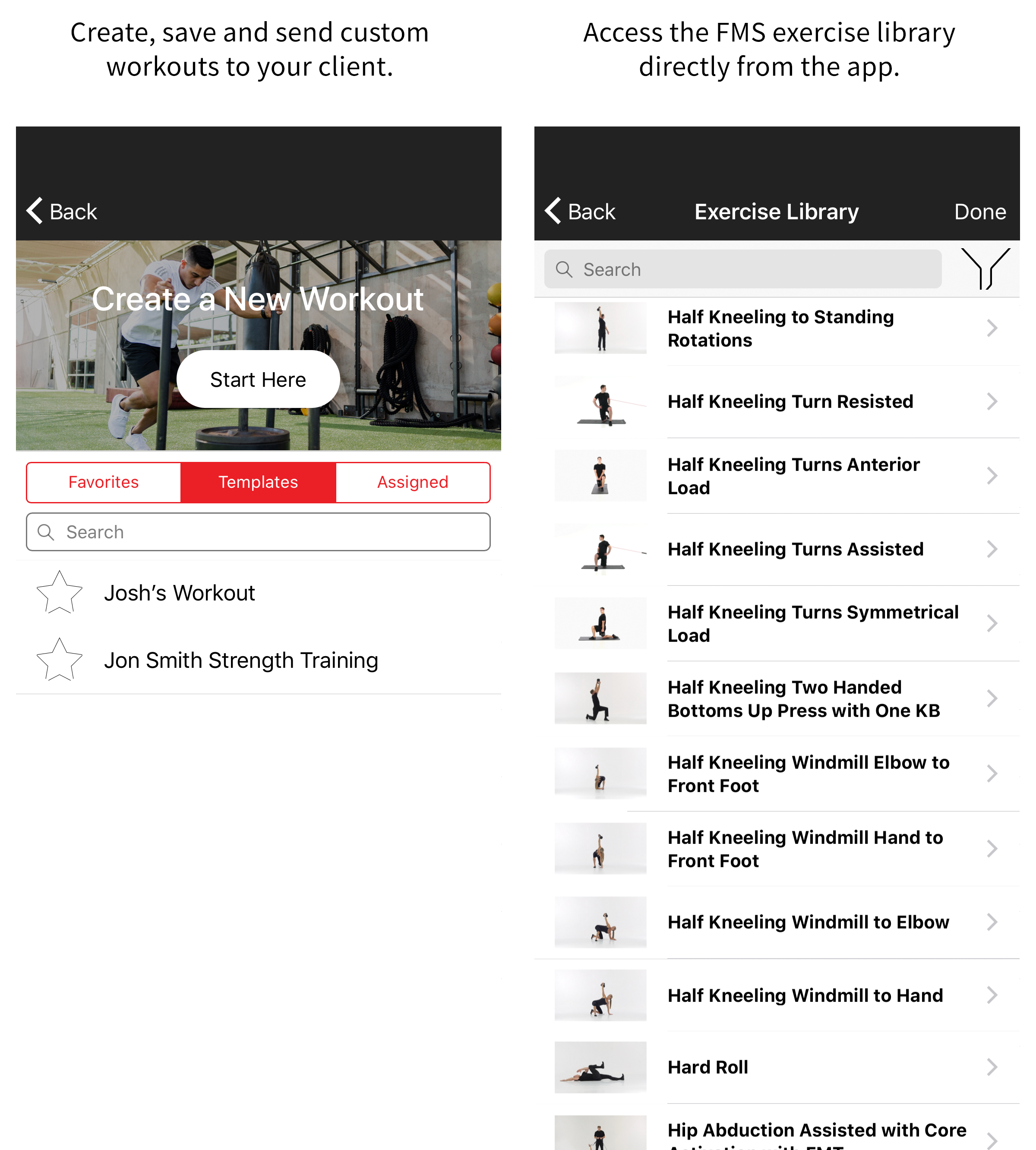 Connect with Clients and Pros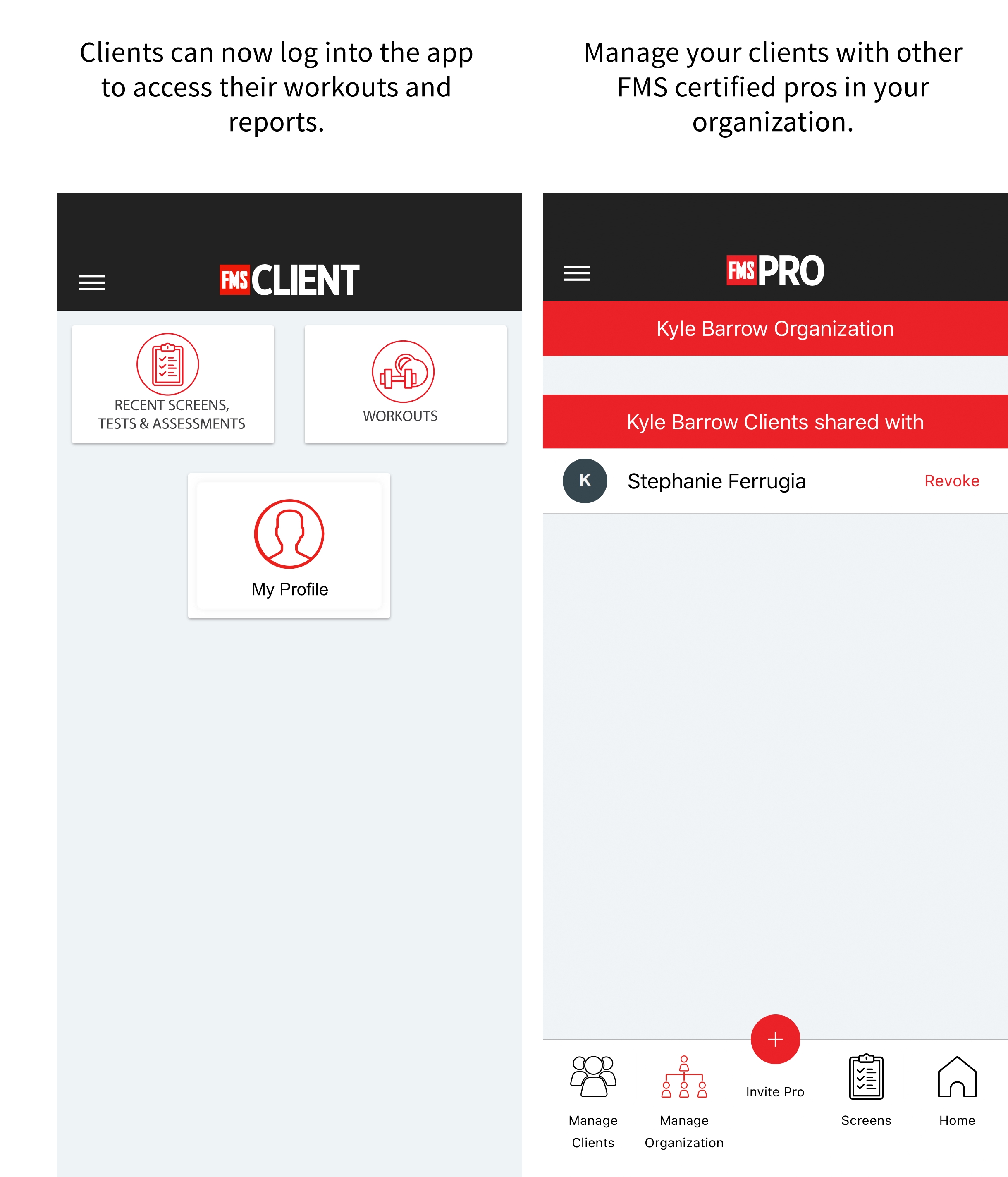 Download Now!
Please login to leave a comment
15 Comments
Hi , sorry nut where is possible to find the old workouts , program templates ???

Hi Federico, Your workouts and program templates are now available within the FMS Pro App. If you have any questions on how to access your workouts within the app please contact us at support@functionalmovement.com.

Hi thank the new app is very usefull. With the web version based pro 360 i had the choice to build with the workout builder some workouts. Also with the filters i had the choice for high performance exercises or strength. I can find these options and my the workouts i build.

Hi Gregory, The FMS Pro App now includes our workout builder. This builder allows you to create workouts using our FMS Exercise Library, which includes over 500 exercises that may be filtered by movement pattern or position. Please contact us at support@functionalmovement.com if you have any further questions on building workouts. Thank you!

I do NOT like this advancement at all!!!!! I could never find any program building, exercise library...... on my iPhone or iPad!!!!!! Please bring it back!!!!!

Hi Maureen, We have released a new version the FMS Pro App which now includes the workout builder and exercise library. This update is brand new, so please ensure you've updated your FMS Pro App to the newest version (1.25 as of 12/11/19). Once you have the newest version you'll be able to access the features shown in this article. Thank you!

ok. I had to delete old app to relaunch the new one. Sorry for my rant earlier!

My clients cants see their report but are getting their auto generated exercises. It offers a code for them to use but does not work. Help

While the Ipad/Iphone version work well for capturing a screen and auto-generating a workout, Typing on an Iphone and trying to create a custom workout is ridiculously cumbersome and frustrating. Plus the app tends to either crash, lock-up, or the wrong images appear for exercises. I hope you will consider a web-based/lap-top/desktop option in the future. Thanks.

FMS360 had lots of prebuilt templates. Now they're gone.

Really disappointed with the new app. The exercise library is limited and requires unnecessary searching to find basic movement patterns such as a body weight squat or lunge. No options to filter for body weight or specific equipment AND no option to create your own exercise. All of my previous programs (from the website) are gone and you can no longer access pre-loaded workouts such as the knee rehab programs that were available online. Such a downgrade from the online Pro 360, incredibly disappointed.

Rachael

4/1/2020 4:31:41 PM

I have to say I agree not being able to access through the website has made it really difficult. Please can you reconsider going back to this?

The FMS and SFMA tests did not transfer over...in addition, none of the workouts are there...I have built tons of workouts/programs for people. I hope they are not deleted. Also, why can I not just create a workout for one of my clients. I'm finding no functionality with the new app. Please help.